News
---
Stepping into the Future
Stepping into the Future
This is an update on what is happening across the Church of Scotland and locally in Monifieth. It is intended that all members will watch and understand better the upcoming decisions which need to be made by congregations and Presbyteries. It is also an encouragement to all church members to be part of the ministry of Christ.
---
Building Open for Pentecost
We are returning to the building for corporate worship, twice a week, starting the week leading up to Pentecost. Services will be held on Wednesdays at 2pm and Sundays at 11am. There is a strict cap on numbers, there will be no singing, face coverings must be worn inside, and contact details need to be for tracing purposes.
Should you wish to reserve a space at either weekly service, please call Dorothy Culloch on 01382 534844.
Recorded versions of the services will still be available on CD, DVD, USB, etc, and via YouTube and website.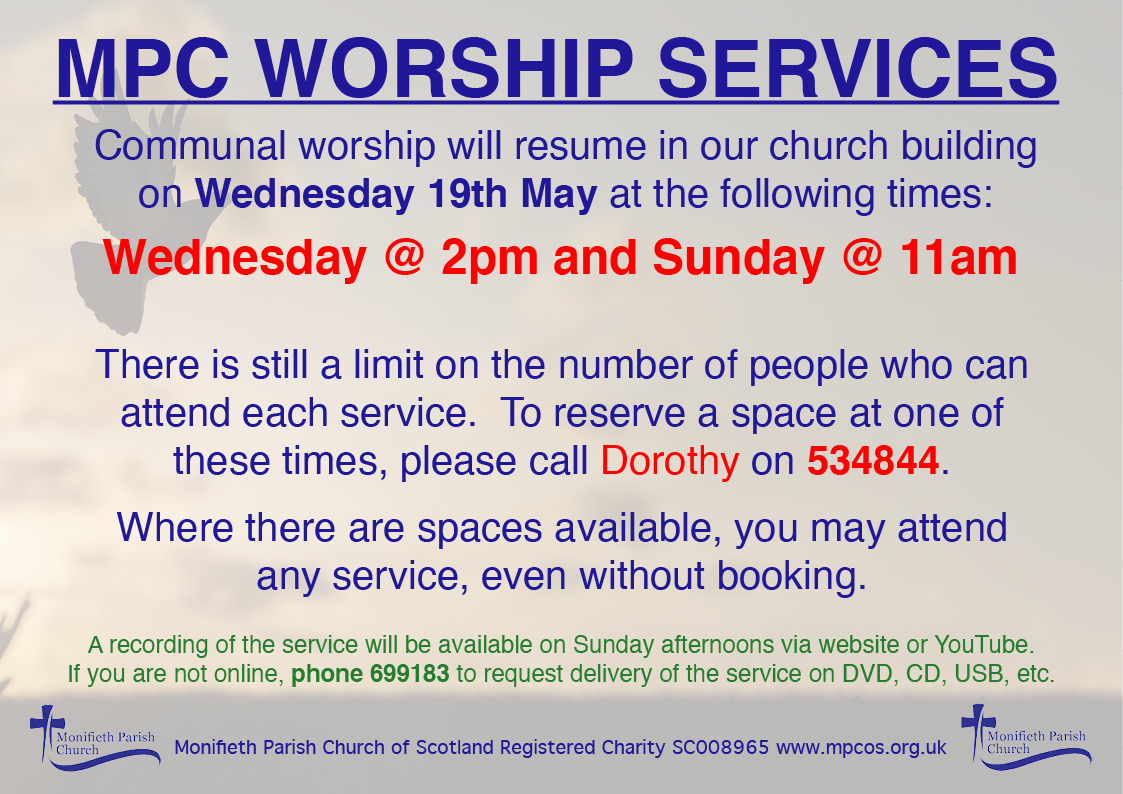 ---
Citation to MPC
MPC has received the following citation from the Presbytery of Dundee. Those who wish to engage should contact the Session Clerk. Thank you.
CITATION TO CONGREGATION: Monifieth
Notice is hereby given that the Presbytery of Dundee will meet by Zoom on Wednesday, the 12th day of May at 8.00pm to deal The Proposed Linkage of Monikie & Newbigging and Murroes & Tealing with Monifieth Parish Church on the departure of Rev Jean de Villiers and that the congregation are hereby cited to attend for their interests and that if any commissioners wish to appear to represent the congregation they should log on 10 minutes prior to the due time.
James L. Wilson, Presbytery Clerk
---
Easter Quiz Trail!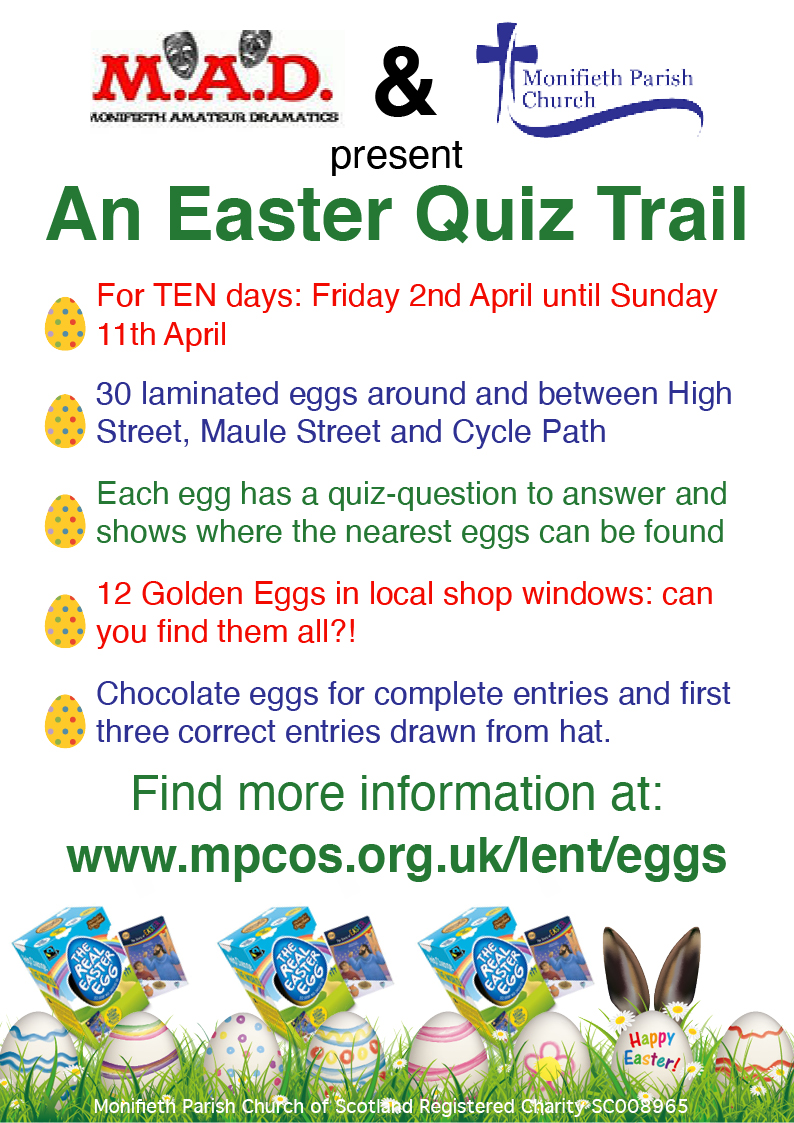 ---
Results of Congregational Vote
All members and adherents of Monifieth Parish Church of Scotland were invited to take part in a congregational vote, this was conducted in accordance with "The Congregational Meetings on Sale or Disposal of Church Buildings Protocol (v1, [3 October] 2020)".
All returned ballot papers have now been collected and counted.
435 Ballots were returned. The Results are as follows: -
(1) I agree to the Registration of our new church building at 41 High Street, Monifieth, Dundee DDS 4AA as our primary place of worship.
| | | |
| --- | --- | --- |
| | Vote | |
| Yes | No | Abstain |
| 410 | 21 | 4 |
(2) I agree to the Kirk Session starting the process of selling the St Rule's building, Church Street, Monifieth DDS 4JP.
| | | |
| --- | --- | --- |
| | Vote | |
| Yes | No | Abstain |
| 395 | 37 | 3 |
The Kirk Session Monifieth Parish Church
---
---
---
Masks!
MPC's intrepid sewers have been supporting the NHS and other keyworkers over the past few months. Now they are here to help you comply with Scotland's new requirements to wear face masks in shops and on public transport. You can get 3 masks for £10 by contacting Dorothy Culloch on (01382) 534844. Post-production profits will be donated to Monifieth Parish Church. Thank you.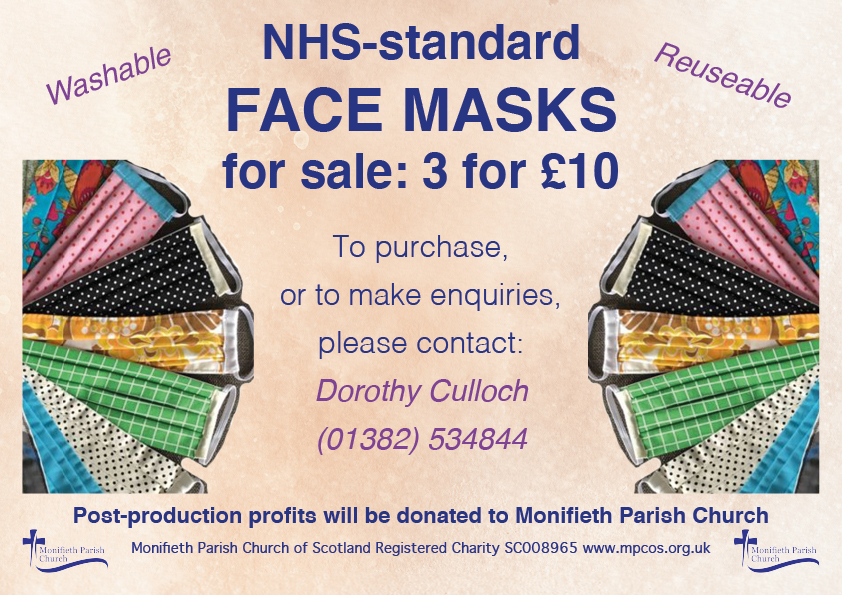 ---
The new norm is not the old norm with a different hat on.
"The new norm is not the old norm with a different hat on"
by Professor John Swinton (Aberdeen University)
Taken from the online zoominar "Theology in a time of Covid," held in May 2020 by Trinity College-Glasgow University
The full video can be found on Vimeo here
---